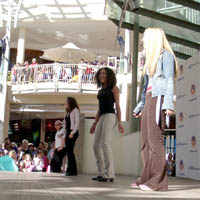 The stars of the hit childrens program The Saddle Club recently visited Warner Bros. Movie World to enjoy a day off from filming.

The four stars who visited, Lara Marshall, Kia Luby, Jessica Jacobs and Janelle Corlass-Brown, walked arm in arm through Warner Bros. Movie World.

The girls checked out all the rides and attractions and particularly enjoyed the Scooby Doo Spooky Coaster!