TRACKS:
1. The Way You Are
2. Don't Ask Me
3. I Want To Know You
4. Princess Veronica
5. A Girl Like Me
6. She
7. Sister To Me
8. All I Want
9. Can You Read The Sign (Alex Marrionet)
10. No-one Like You
11. Daddy's Little Girl
12. Holding Onto You
13. Crazy
14. There's Always Room For Love
TRACKS 1. Carole and The Saddle Club: We Can Do Anything 2. The Saddle Club: On Top Of The World 3. Lisa: Every Day 4. Veronica: Tell Me What You See 5. Red: My Sunshine 6. The Saddle Club: Hey Hey What You Say 7. Stevie: Everything We Do 8. Lisa: Storm 9. The Saddle Club: Everybody Come On 10. Phil: Please Come Tonight 11. Carole: Ride Like The Wind 12. Veronica and Kristi: We Got Style 13. The Saddle Club: Wonderland 14. Carole and The Saddle Club: Au Revoir Dorothee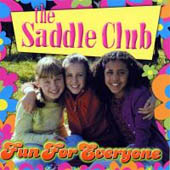 The Saddle Club hit the music indurstry with their first song, "Hello World" by popular demand after it was featured with the end credits of the show and they've been booming ever since.
"Hello World" did so well on the charts that the big money making people that we never hear about decided to get the girls going with an album, what else could the fans want? "Fun For Everyone" was realased in late 2001, and went gold after 3 months in stores, that means it sold over 35,000 copies!
The producers took that as a good sign, and the girls kept on going with the realsed on their second single "Hello World/Hey Hey What You Say" which were both featured on "Fun For Everyone" but surprisingly enough, "Hey Hey What You Say" wasn't sung by The
Disc 1.
1. Undercover Movers & Shakers
2. Diablo
3. Its A Lovely Day
4. Im A Girl
5. L.I.F.E.
6. How I Feel
7. Amazing New World
8. Seasons Colours
9. Heaven Meets The World
10. Oop Oopee Doop I Love You
11. I Feel So Alive
12. Happy Every Day
13. Stars Tonight
14. Secrets and Dreams

Disc 2 Bonus disc - Sydney Royal Easter Show

(This album features two different covers and what you see above is a single image with both covers merged to one picture.)
TRACKS:
1. Hello World: The Saddle Club
2. Perfect Boy: Carole
3. Kinda Wonderful: Stevie
4. Be A Star: Lisa
5. Tears Of Gold: Veronica
6. Friends To Be: Phil
7. Sooner Or Later: Kristi
8. Boogie Oogie Oogie: The Saddle Club
9. Brand New Day: Red
10. Trouble: Melanie & Ashley
11. Friends Forever: Carole
12. In Denial: Lisa
13. Perfect Day: The Saddle Club
14. Undercover Movers and Shakers: The Saddle Club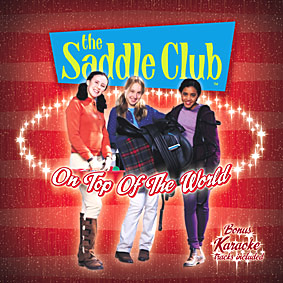 TRACKS:
1. Lisa: The Sun Is Always Shining
2. The Saddle Club: Hello World
3. Lisa and The Saddle Club: Dreams Come True
4. Melanie and Ashley: The Best That I Can
5. Veronica: Girl With Claws
6. Phil: Stay Here All Day
7. Stevie: Catch Me If You Can
8. The Saddle Club: Boys
9. Kristi: Crush On You
10. Carole: Dreams
11. Phil: Brighter Day
12. Melanie and Ashley: Hey Hey What You Say
13. Carole and The Saddle Club: We Are The Saddle Club
14. The Saddle Club: Together We Are
Saddle Club on "Fun For Everyone", in fact it was sung by two of the youngsters, Ashley and Melanie. The producers
and
obviously the fans loved it so much that soon everyone was singing it, and was soon it had sold over 50,000 copies on a single with "Hello World"!
They kept on rolling with a realse of a second album, "On Top Of The World" which has hit gold with a little help from their 2003 promotional tour.
To follow "On Top Of The World" was the series two favourite "Wonderland". Lisa, Carole and Stevie took the chance when they had it to sing at their favourite hangout, JB's on screen. The viewers loved it so much they had to hear it live at shopping centers across Sydney and Melbourne.
Now after the hit of Wonderland a third album is expected to follow along with to more singles!